Sonix AI Tool
Overview :
Sonix AI Transcription is an advanced transcription service that utilizes artificial intelligence technology to automatically transcribe audio and video files. It offers fast and accurate transcriptions, saving time and effort for businesses and individuals who need to convert spoken content into written text.
Sonix AI Official WebSite

Try it Free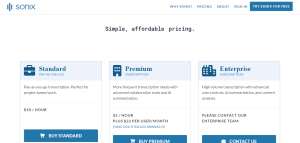 Sonix AI: Pricing Offer
Sonix AI Transcription offers flexible pricing options to suit different needs. Their pricing plans range from pay-as-you-go options for occasional users to monthly subscriptions for more frequent users. With transparent pricing and no hidden fees, Sonix AI Transcription provides an affordable and reliable solution for accurate and efficient transcription services.
How it Works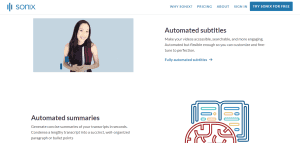 – Sonix AI Transcription uses advanced artificial intelligence technology to convert audio and video files into accurate, searchable transcripts.
– The audio or video file is uploaded to the Sonix platform, where it is automatically processed and transcribed in a matter of minutes.
– The AI technology analyzes the audio and applies machine learning algorithms to accurately transcribe the spoken words into text.
– The resulting transcript can be easily edited, shared, and searched, making it a valuable tool for professionals in various industries.
References of initial studies from other authors and publishers are given here. We follow international standards in writing unbiased content.
Affiliate Disclosure
We maintain a transparent culture in our work and do-follow FTC affiliate disclosure guidelines. This blog post might include affiliate web links, which implies we might obtain a commission if you click a web link and buy some product or service that we suggested.