Getting Started with Mobile Monkey Chat Bot Panel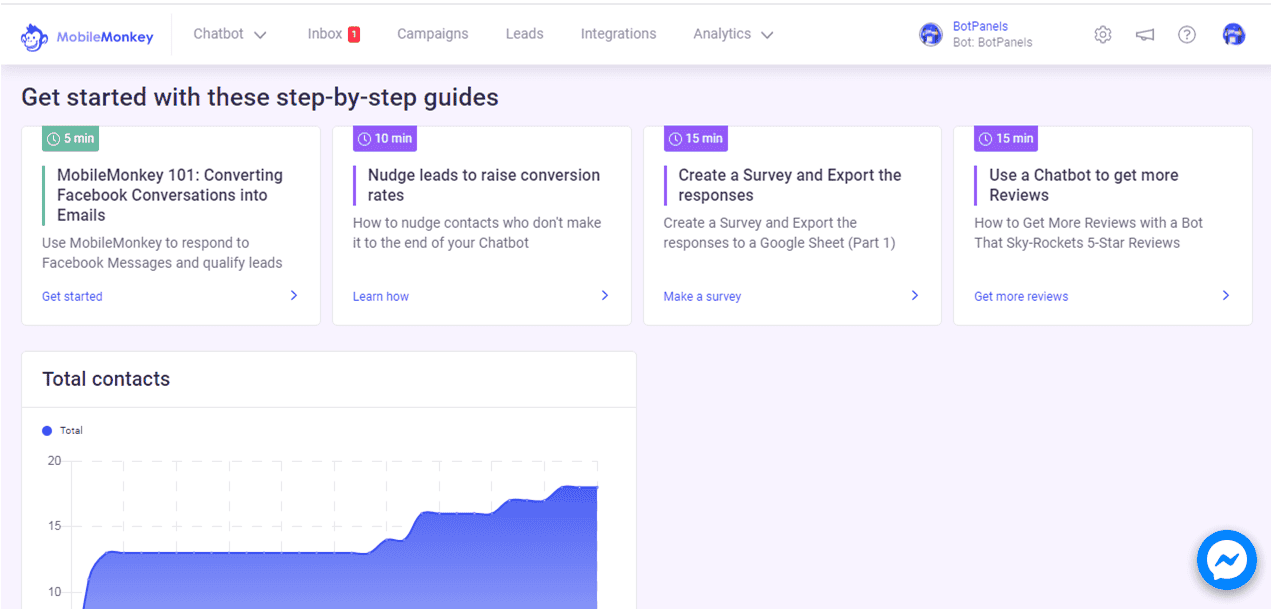 Overview :
Hey everyone, Welcome to this exciting episode of BotPanels, Today we are  going to talk about mobile monkey new dashboard and chatbot hyperlink.
The new design looks great and easy to navigate. I give it a five star rating. And hope you would like it too.
Dashboard:  Ok, let's begin to interact with the dashboard now.  It starts up with a salutation that shows your name. Your Facebook page id is also shown up here which is being connected here to this chatbot builder.
Some valuable information like sessions and contacts displayed here for a quick review. If we talk about navigation, it's given in top header, very easy to find links of your interest.
Chat Bot hyperlink:  If you click on Chatbot, you found three options under it. Chat Starters, Dialogues, And Question answer. As per mobile monkey, automate conversions across all your web properties and chat channels cover up in these three categories.
We will discuss these three categories one by one.
Chat Starters:  First we look at, Chat Starters. This chat starter, group all the tools that you need to start conversations on your website and Facebook page.
Comment Guard, SMS keyword, Facebook page welcomer, Customer chat widgets, Share links, landing pages, Facebook opt-ins, opt-in popup, and all these tools  are grouped under Chat Starters.
Dialogues: The next hyperlink in the chatbot menu is Dialogues. As the name suggests, this is the area where most of the chatbot building works done.
For example, you write the conversations for your chatbot here. And that gives a rich experience to your web chat and Facebook messenger.
You create and edit chatbot dialogues. You can group your dialogues as you like.
A very interesting this is, you can test you chatbot with in this section and see how your clients see it when it go live.
Questions & Answers: And this hyperlink is Questions & Answers. It can save you from all those embarrassing conditions where user asks a question and chatbot is not equipped with the optimised answer.
You can manage frequently asked questions from here. You can draft customise responses and dialogues to handle these frequently asked questions. If you look at the right hand side of yours, you will find a list of unanswered questions.
It will help you to monitor and identified unanswered questions of end users.
Profile Icon: Let's have a quick look at the profile icon given in top header at extreme right position. You can switch back to old mobile monkey interface by clicking here and again came back to new version by clicking here.
There are several other submenu options. You can select my account, company, billing, users and referral. You will also find a logout option here to simply logout from your panel.
We will discuss all these submenu options in subsequent episodes of BotPanels. This episode on dashboard and chatbot hyperlink completes here.
You can subscribe BotPanels to get access to interesting learning videos and free tutorials.