How to automate marketing campaigns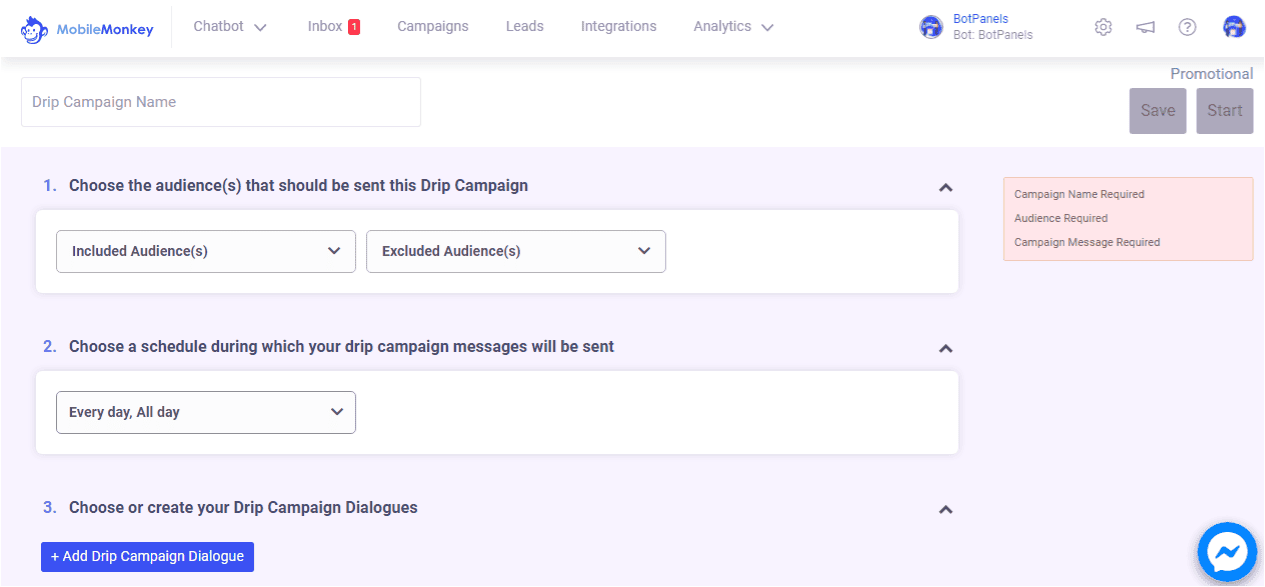 Overview :
Hey everyone, welcome to this exciting episode of BotPanels, Today we are going to talk about how to automate marketing campaigns using chatbots.
Visit Link

Do you know about drip campaigns?
What is a drip campaign, why it is important in marketing automation, and how to set it up?
We are going to do the same in this episode.
Go to the campaign link given in the header and just click on it. You will find the drip campaigns link in the left navigation menu here.
When you click on this drip campaign link, you will find one another link to create drip campaigns in the workspace. When you click on it, you will reach on to the drip campaign setup page.
It is written here clearly that a campaign name is required, the Audience is required and a campaign message is required to set up a drip campaign.
What is Drip Campaign:
Before moving ahead, let's have an overview of drip campaigns. Drip campaigns are follow-up messages that are automatically sent. If you are familiar with email autoresponders, it is similar to that.
You might have created an audience for all those users who are engaged with you via your chatbot. Now you are able to send them a series of follow up messages.
As per the guidelines in today's date, you can only send these messages in the first twenty-four hours of user engagement. After twenty-four hours, another method like sponsored messaging will work.
Set up:
Now let's set up our drip campaign here.
Campaign Name:
It is always recommended to name your campaign. We name it as a dry run.
Audience:
Next step is to choose your audience. We are going to select the options given here on the list. We can also exclude the audience from the campaign by selecting the option from here.
Placement:
And then you can select when you want the message sent. As we have already learned that as per the guidelines, messages won't be sent if it is after twenty four hours.
Dialogue:
Let's move ahead. There is no message in the drip campaign so far. We are going to show you how to create the message. Just click on the Drip campaign dialogue link here.
Timing:  
You can fill the time here. For example one minute or fifteen minutes or whatever you feel right. They will get the message on that particular time you filled in hereafter becoming your audience.
One more thing, If you do not know how to write dialogue, we have a separate learning video on it.
Add Dialogue:
We are going to start writing the drip campaign message here or better to say, we are going to write the drip campaign dialogue here.
Click on this plus button and select the text widget to write dialogue. We are going to write, thanks for visiting us. We offer a free consultancy of fifteen minutes on bot building.
So once in fifteen minutes, after entering the audience, they are going to get this message.
This is a very basic level of message drafting.
If you wish, you can add some button to redirect the page or you can start the message with your pre-drafted dialogues.
We will discuss some other interesting features of ChatBots in subsequent episodes of BotPanels. This episode on automating marketing campaigns completes here.
You can subscribe to BotPanels to get access to interesting learning videos and free tutorials.