How To Setup A Messenger Chat Bot Widget In Guest Mode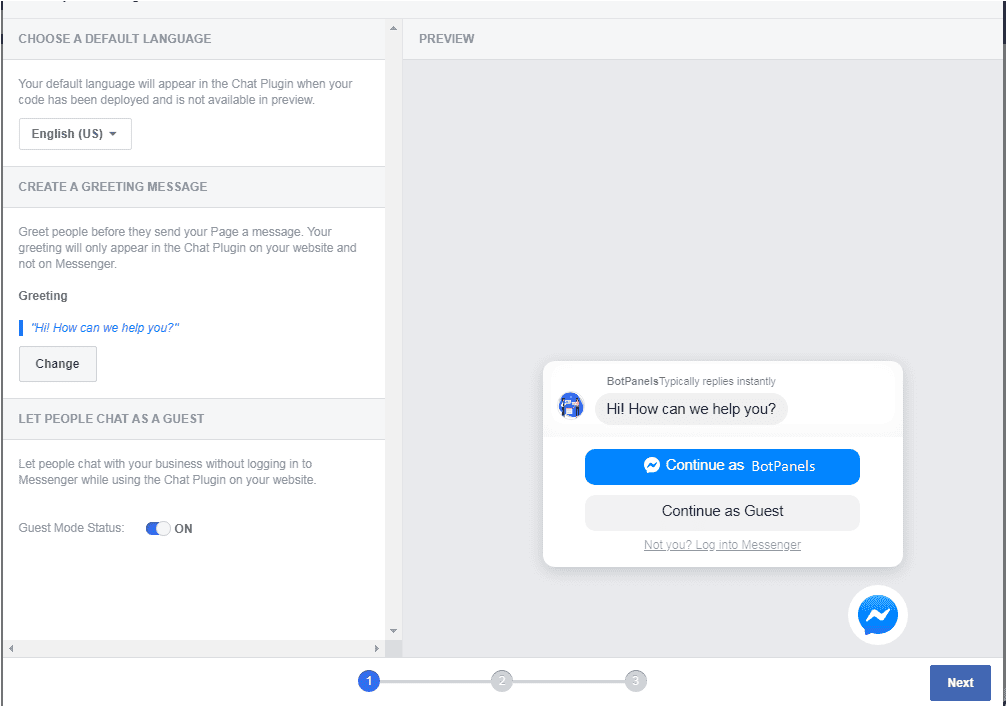 Overview :
Hey everyone, welcome to this exciting episode of BotPanels, Today we are going to talk about how to set up a messenger chatbot in guest mode.
First, have a look at what is Guest Mode and how it works.
Guest Mode: Guest mode is a feature that allows website visitors to have a conversation with your Facebook page without logging into their messenger account.
It is good for those who are not having a Facebook page and want to communicate with your messenger. All these guest mode users are temporary accounts.
Advantage and Disadvantage: There are some advantages and disadvantages to it as well.
You can have the communication with guest mode user until the user ends the chat session. And ones the chat session end, guest mode users will be unreachable.
And we won't have any details available with us as their accounts are temporary by nature.
You can respond to these guest chats from your inbox given here in the dashboard as well as from the Facebook inbox. All the guest conversations end up in 24 hours from the start of the chat session or when the user decides to end the chat session, whichever comes first.
So the main advantage of Guest mode is, it allows all those website visitors to get engaged with your messenger who does not have a Facebook account or does not want to log in to chat.
And the disadvantage is, guest mode user is unreachable and the engagement objective is not completed sometimes.
How to disable it? So if you want to disable guest mode. Open up your page settings on Facebook. Please make sure that this is the same page where your messenger is active.
Now click on the messaging link given in the left navigation. Scroll down your page and you will get a heading that says, starting a messenger conversation.
There is one another heading just below it that says, add messenger to your website. Click on the get started here. You will reach on to a new page.
You will find a link to guest mode status on the left side of the navigation. You can toggle the guest mode status from on to off or off to on.
Your messenger will reflect these changes and will not allow guest mode if you put it off.
How to enable it? Same way, if you wish to open the guest mode again on your messenger. You need to change these settings and make guest mode on. So it is all up to you how you would like to set up your messenger.
As a common practice where lead generation is on top priority, it is good to keep guest mode on.
Now you can close this pop-up window by clicking this button given at the right-hand corner.
We will discuss some other interesting features of ChatBots in subsequent episodes of BotPanels. This episode on setup Messenger chatbot in guest mode completes here.
You can subscribe to BotPanels to get access to interesting learning videos and free tutorials.