Cut Copy Paste your old content to generate new content
Yes, you heard it right. You just need to provide us the content that you want us to rewrite. And we will create new unique content out of it without any duplicacy. There are thousands of reasons for content rewriting. Some of them are if you want to:
1. Generate unique content for your blogs.
2. Create new articles from the archive of your old postings.
3. Replace old content on your website with fresh new content.
4. Rewrite social media blog posts to generate content for yourself.
5. And most importantly, content rewriting is widely used for SEO nowadays.
Generate new content using Artificial Intelligence (AI)
We use Artificial Intelligence (AI) and Natural Language Processing (NLP) techniques for Content Rewriting. The effective use of technology allows rewriting the content at a fast speed. In Addition, We do manual proofreading to make 100% unique content.
You can create unique content for your websites, blogs, and articles. This service gives you the advantage to rewrite your provided content. For example, you can create multiple numbers of blogs just from one blog content of yours and so much more. The generated brand new rewritten content is very much SEO friendly and compatible with Search Engines.

High-Quality Content
Have you experienced the quality of low-cost writers' content?
You know the answer is, most of the time content spinning does not serve the purpose.
And that is why we launch this Content Rewriting service with manual proof-reading. We do understand that Spinning tools have their own limitations and manual editing is a must to make the content of high quality. It helps to re-produce content with new words and new sentence structure with the original meaning.
Is it practical viable to get good quality content from an outsourced article writer at a dirt-cheap price of $5 per hour? Not at all. Stop wasting your money on cheap tricky solutions when botpanels advance content rewriting service is available on a pocket-friendly budget. This service also includes parts of speech analysis of your given content, Grammar checking, Sentence level & paragraph-level editing, and more.
Search Engine Optimized (SEO) content
The great advantage of using the BotPanel content Rewriting service is, your rewritten content would be search engine optimized. There is no rocket science behind it and it is our pleasure to share our working methodology with our users to build their confidence in our work. We strictly follow the guidelines defined by search engines like Google and tried to avoid the duplicacy of content.
We adopt manual techniques to make the variations in your given content paragraphs. We edit different versions of sentences and make the passive voice of sentences. We rewrite the content and create variations at all these levels to maintain the uniqueness. After going through all these phases, the content gets optimized for search engines. We are also going to launch the keywords weaving feature in the content rewriting service very soon.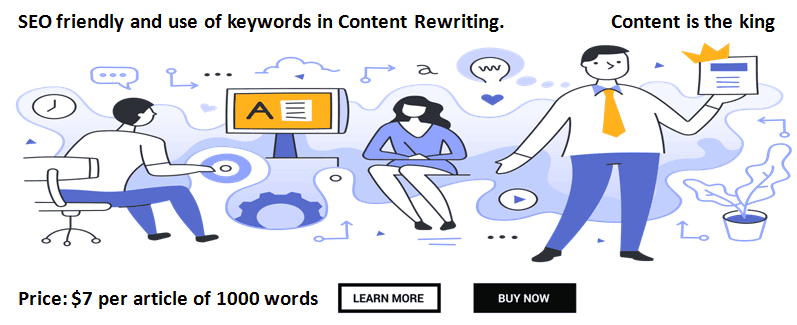 Pay As You Go
There is no hourly, monthly, or yearly fee. You need not waste your hard-earned money on recurring charges. Our content rewriting service no longer requires any contract. It gives you the freedom to pay as and when you need the content rewriting. We keep our price budget-friendly so that an independent blogger can also avail of our service. our content rewriting service fee is USD $7 per 1000 words content. It means you can order to rewrite your original content (up to 1000 words per article) in USD $7. There is no minimum order limit. You can order one content rewriting article or a hundred content rewriting articles.
For example, If you order only one content rewriting article, we will charge USD $7 only. And if you wish to order two content rewriting articles, the charges would be USD $14 only. It is as simple as that. Please note, you can submit up to three content rewriting articles in a single order.
An alternative to Spin Writing tools
If you are looking for a Spin writing tools alternative, You are in the right place. The major difference between spin writing tools and our content rewriting service is that we focus on manual content editing while using artificial intelligence rewriting. Click here to know more about Spin Writing.
Most of the spin writing tools work on pre-defined logic. It is very much embarrassing when these automated tools change the entire meaning of original content. To avoid such awkward conditions, we adopt manual proof-reading practice along with Natural Language Processing (NLP).

Bottom Line: Why Use BotPanel's Content Rewriting Service
Content produced by automatic spinners can be easily caught by Search Engines. Because major search engines like Google can recognize the algorithms used by the spinners. Search engines are getting more advance using the latest technologies. Therefore, It is becoming very hard to rank content on search engines. Our content rewriting service generates search engine optimized content with 100% uniqueness. It includes parts of speech, grammar checking, and more.
A little investment of USD $7 on your content Rewriting is a wise decision. What do you have to lose? Over hundreds of digital marketers, SEO agencies, bloggers, SME (small-medium enterprise) are already using Content Rewriting services. Why aren't you? Click here to try it and we believe the output will meet your expectation.